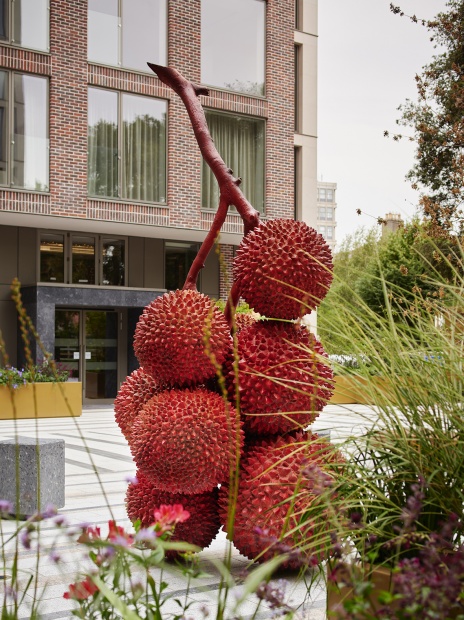 Keepsake – Cuimhneachán
size –  3 meter x 1.5 meter
material  – cast in bronze and patinated red / orange – made in Bronze Art foundry
Location – Lansdowne pl residential development , Ballsbridge
'What excites me about the Arbutus berry 'úll na Caithne' from 'The Strawberry tree ' (Arbutus x andrachnoides) is that it looks so exotic and otherworldly yet is actually a rare native Irish fruit, The species still survives on this site which was the location of the Trinity College Dublin Botanic Gardens from 1806 to 1966.  A testimony to people's willingness to conserve'
I wanted to create an artwork for Lansdowne place that would remind us of its unique history as the location of Trinity College Dublin botanic gardens since 1800's.
Cast in bronze 'keepsake' stands over 3 meters high, the berries standing playfully poised upright as if placed there as a gift.  Each unique berry and the stem structure were initially modelled in oil clay and wood in my studio in Carlow. Once delivered to Bronze Art Foundry, rubber moulds were made to make wax sections, then the 'lost wax' process to cast the work into bronze. The cast sections are then welded and chased back together like a jigsaw and the sculpture form reappears. Finally, the bronze is patinated by heating the metal and chemicals applied to achieve the bright reds and orange patina. It was exciting to patinate in non-traditional colours and for me, this was vital for the success of the sculpture that it looks contemporary, vibrant and exotic yet was made using traditional ancient casting processes.'
Rachel worked closely with Bernard Seymore Landscape Architects and the whole project's process has been documented from her studio through to the foundry with image & film by Ros Kavanagh
https://vimeo.com/user6161892/review/356413688/783bacff5c
Video documenting the making of 'Keepsake' by Ros Kavanagh.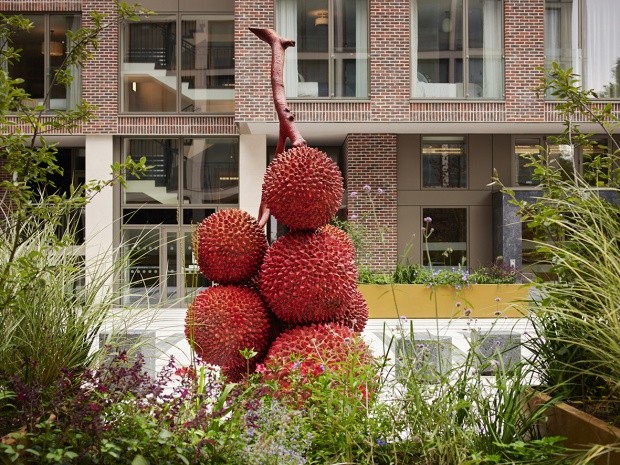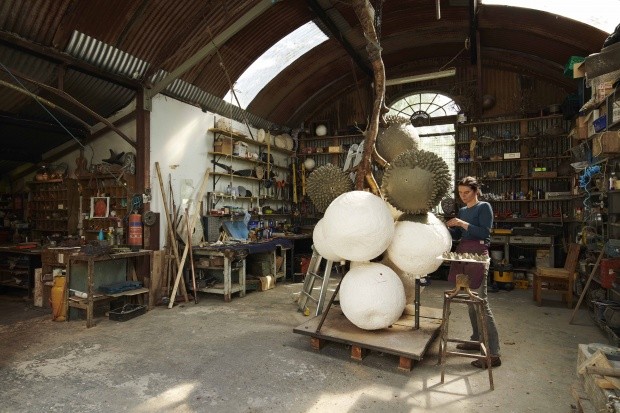 Work in progress in studio – photograph by Ros Kavanagh
Commissioned by Chartered Land Ltd