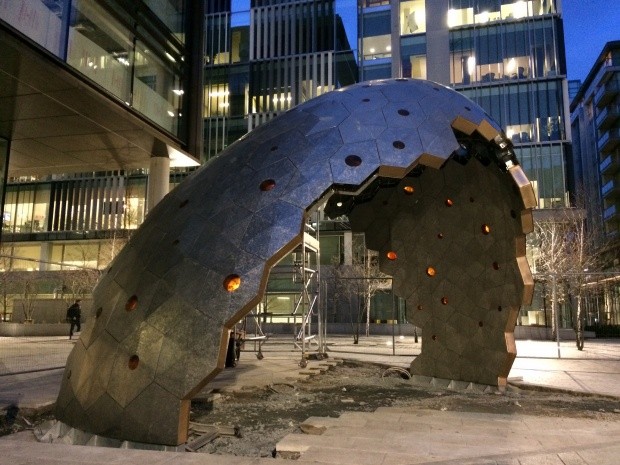 Metropropolis
by Remco de Fouw  &  Rachel Joynt ,  April  2018
Medium : Steel. Stainless Steel, Acrylic Resin.
Dimensions : 4.5m x 6.4m x 4.3m
Location: Central Park Plaza Leopardstown , Co Dublin.
Commissioned by Green REIT Plc
The piece is intended as a focal point for the plaza, and the circulation of commuters, workers & residents passing through. It acts as an organic form in contrast to the rectilinear space that surrounds it.
From a distance it appears as a faceted geometrically formed egg emerging from the ground to create the effect of a welcoming arch that can be walked through. The detail of the glowing translucent amber resin with its flecks and bubbles, within many of the hexagonal forms, adds further intrigue.   The impression of the rounded stainless exterior is kept in tension by the 'peeled away' bronze edges.
The geometric stainless surfaces calls to mind the complex construction of the honeycomb and the idea of wealth as 'Honey' or 'Gold', nurtured within .
We feel the metaphor of the beehive and the activity therein is appropriate to a space surrounded by groups or communities of people engaged in various activities.
The concepts of nurturing, communication and teamwork are therefore implicit in the title Metro-propolis.